nid_dabeille
The
last time
we heard from Jack and Stephen, they were visiting the north pole (or close to it), having tried unsuccessfully to catch a ride with passing Eskimos in their umiak. So they had to search for other ways to get home, having had enough of the cold and wanting to go home to their sweethearts.
J: This would be much easier if we had skis or...
S: Jack, stop where you are! You are standing in the track of an enormous snowshoe hare!
J: Really? Do you think he would lend us his snowshoes? Ha ha!
S: No.
S: Alas, an insurmountable cliff!
J: Nonsense! It will be as easy as climbing the mainmast in a dead calm.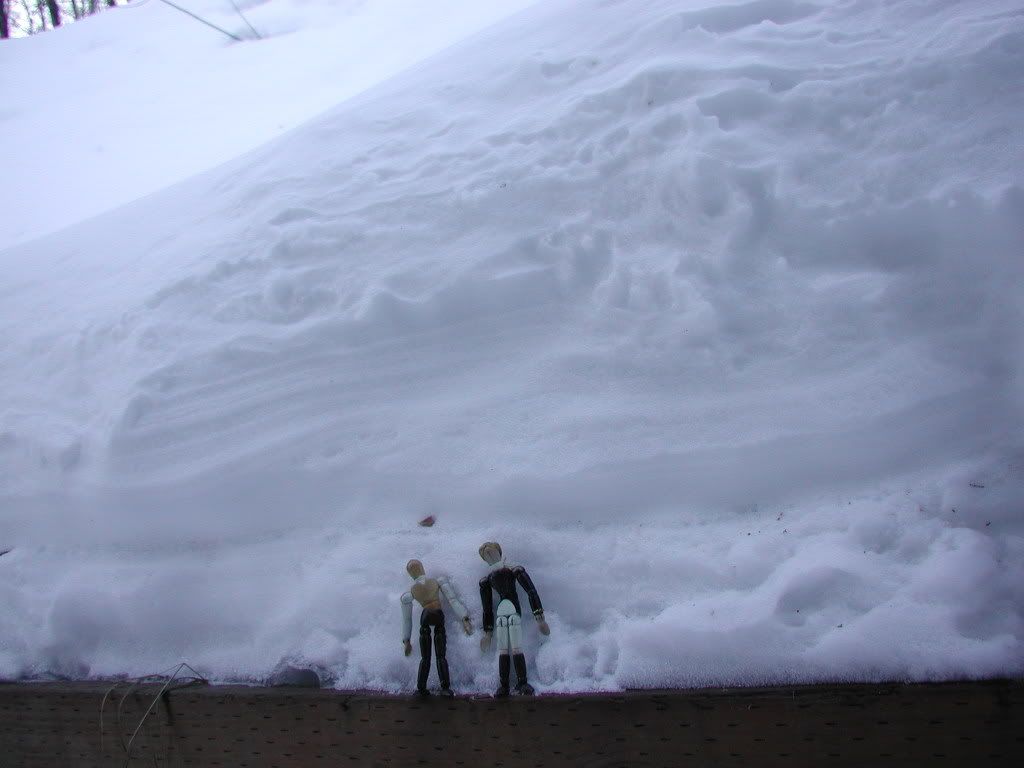 What's keeping you, Stephen?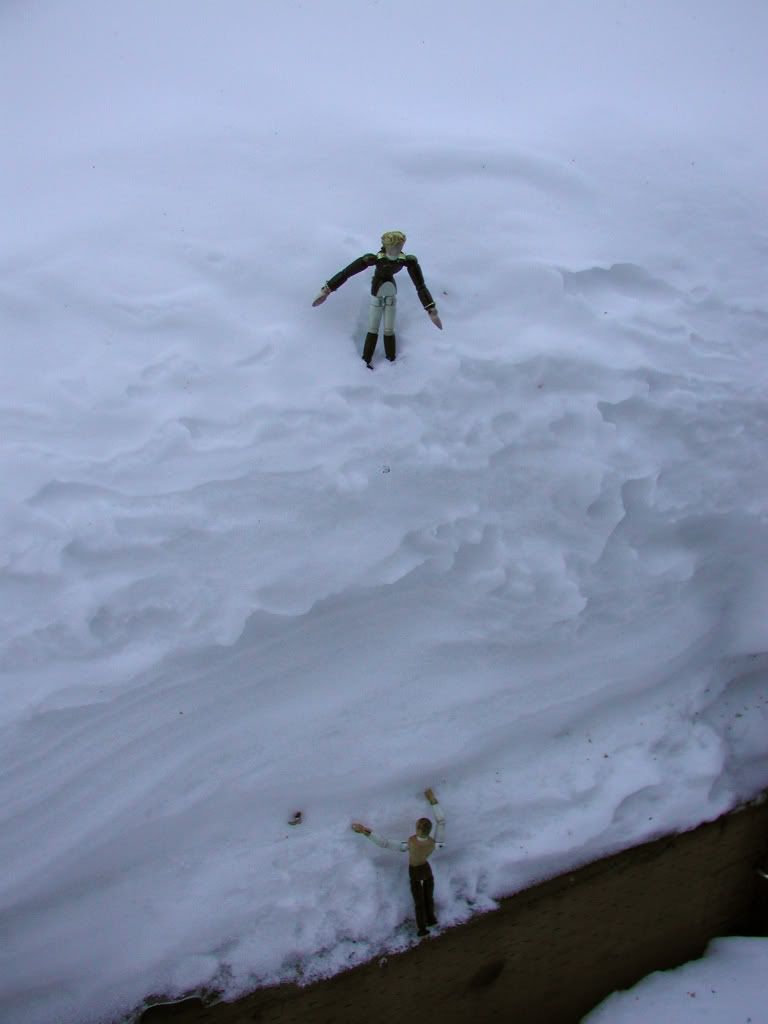 J: Here, clap on to this vine!
S: Could you perhaps lower it a bit more, please?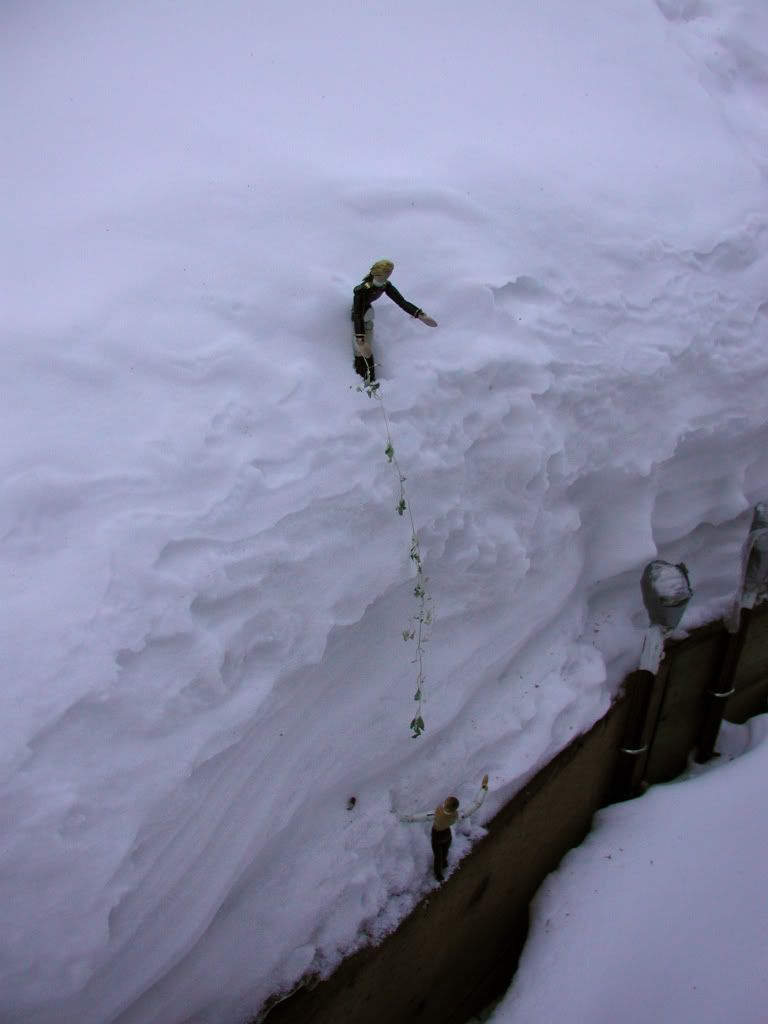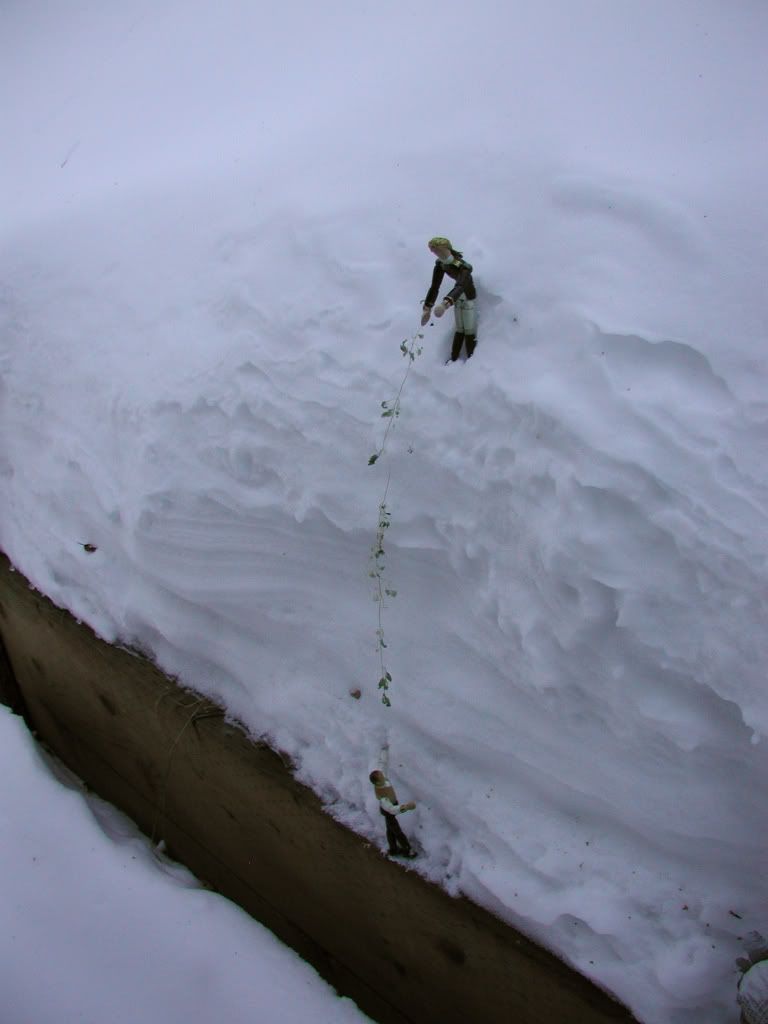 S: That is indeed a prodigious great icicle. Surely you do not intend to climb it, brother?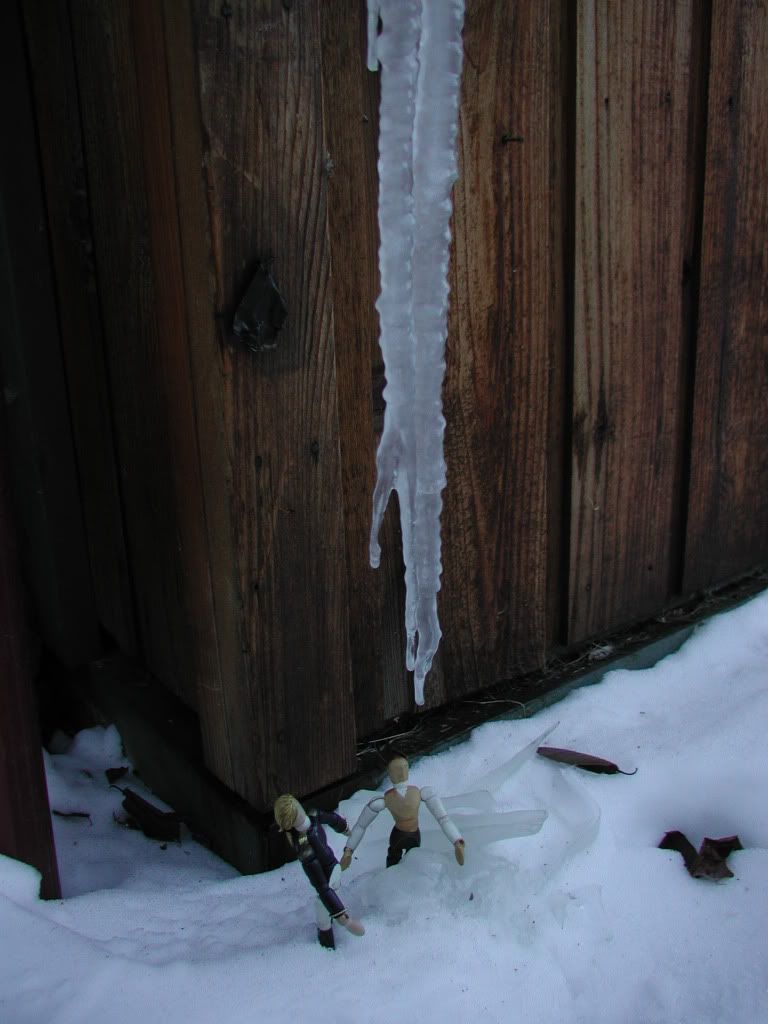 Jack? Jack, where are you?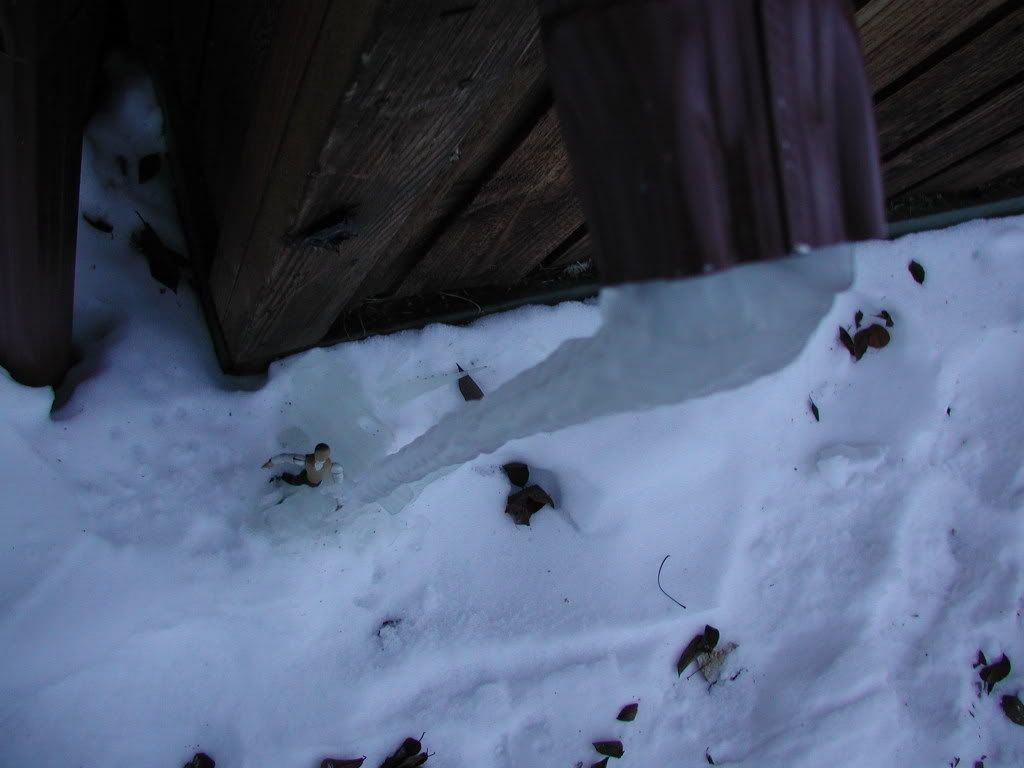 Here I am! Why don't you come up?
Stephen, I've found a cave where we can sleep tonight!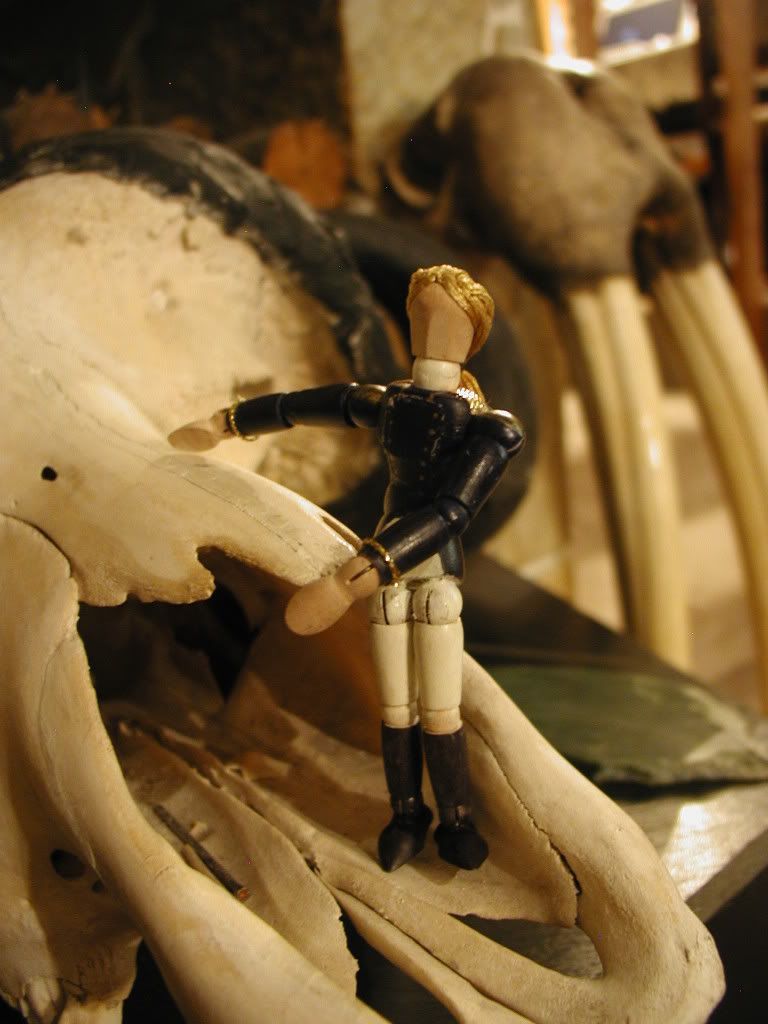 That is not a cave, brother. It is the skull of
Ovibos moschatus,
the arctic musk ox.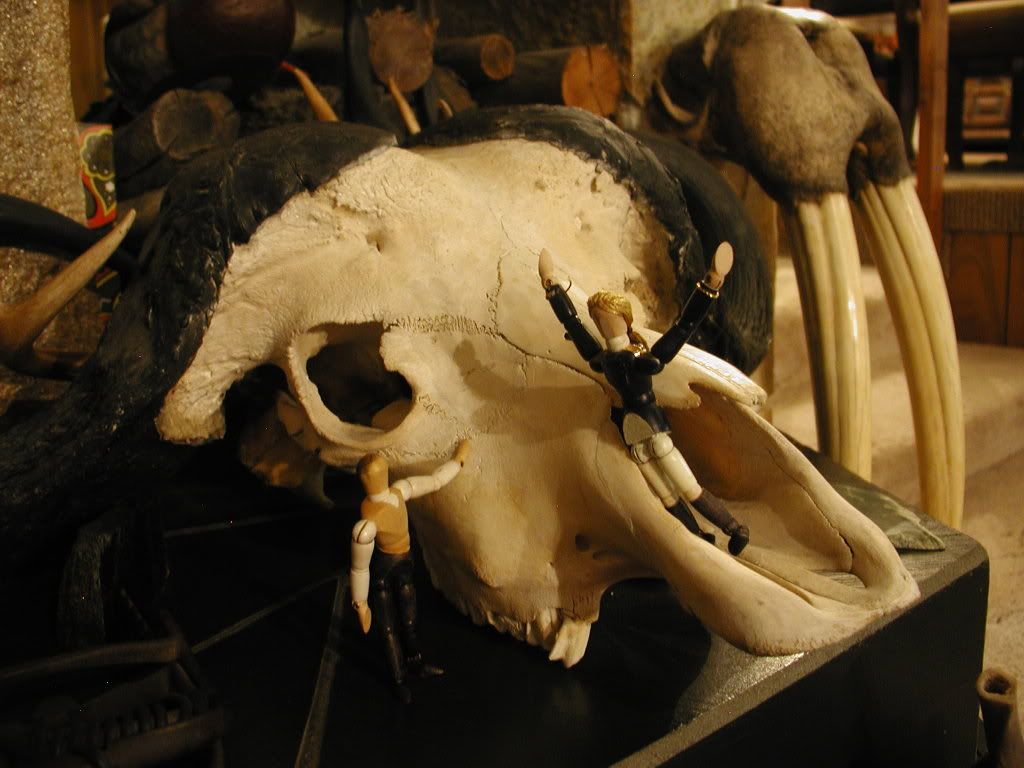 S: But it does indeed make a rather fine cave. Will you come in, now?
J: No!!!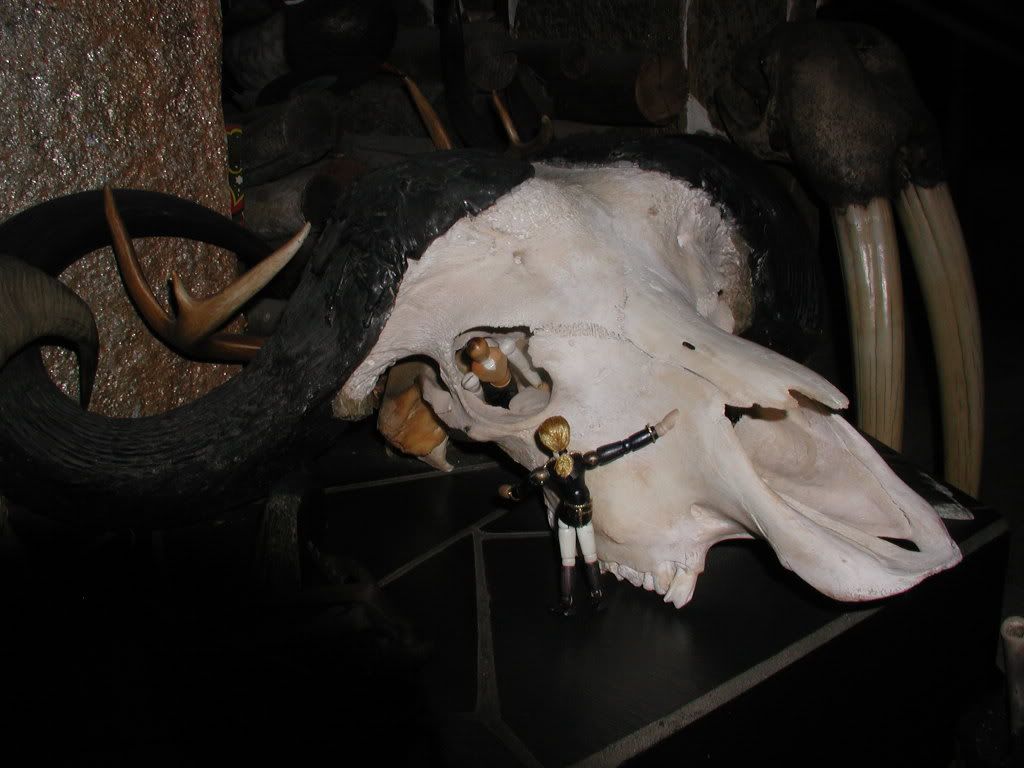 Stephen becomes distracted by the local wildlife...
The abundance of fauna astounds me. I never knew that the arctic could be such a paradise to the natural philosopher! Take these immature plesiasaurs, for instance... Jack? Jack, are you listening?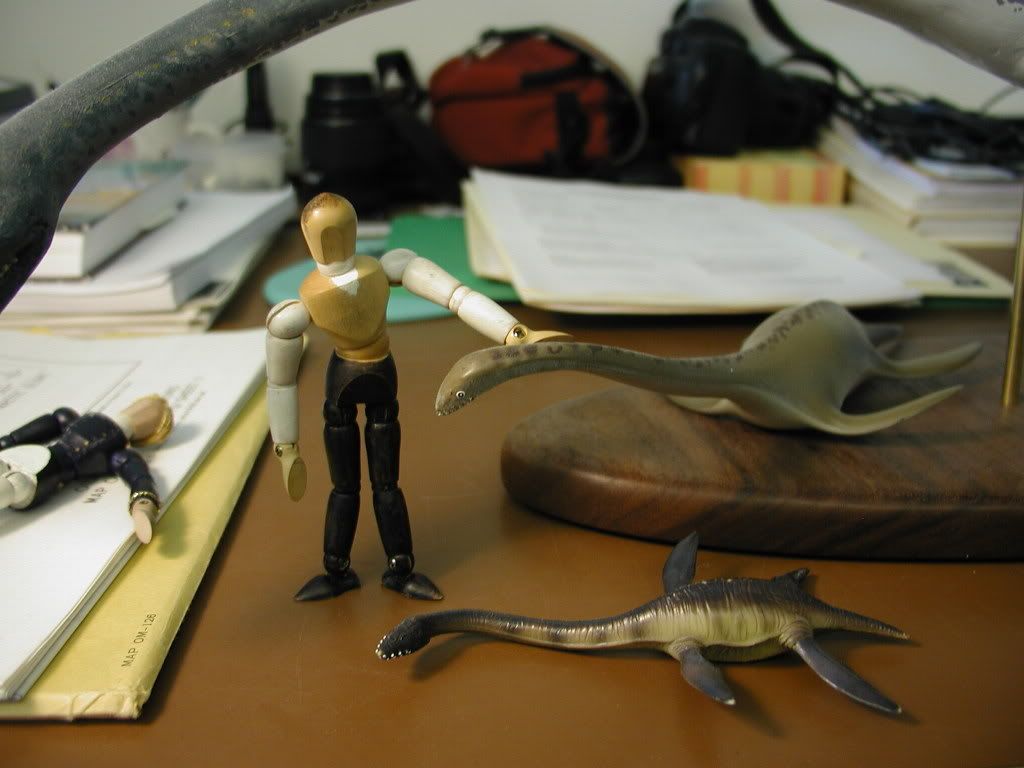 How can you sleep when you could be examining these fascinating creatures? For shame. Wake up, brother.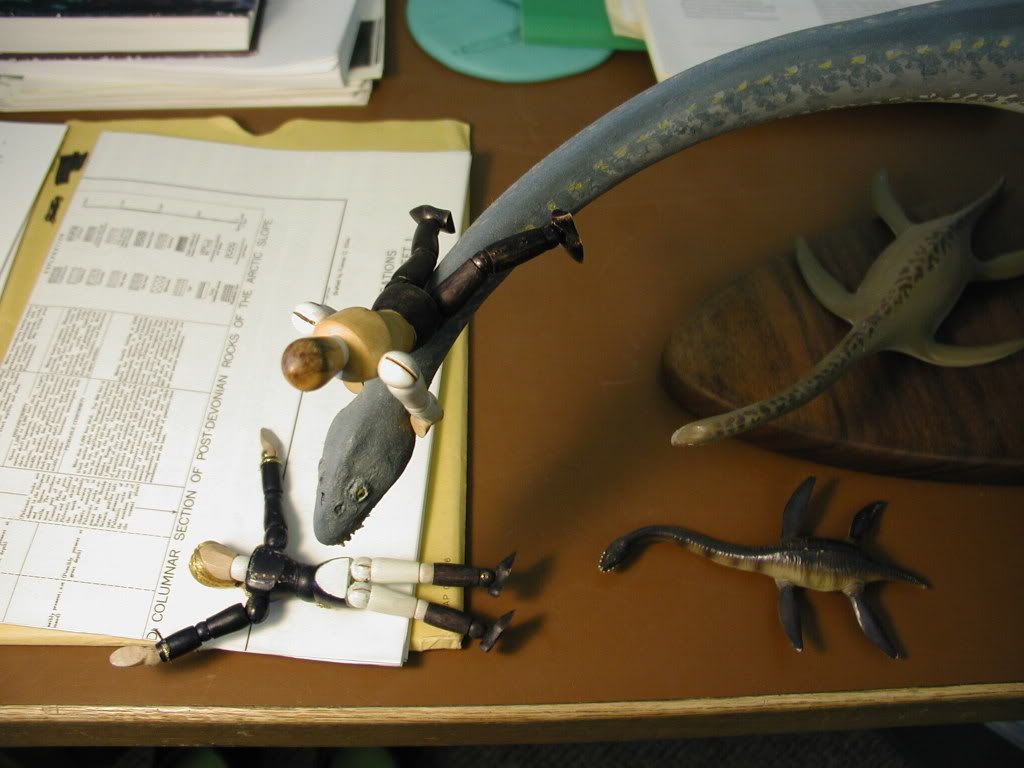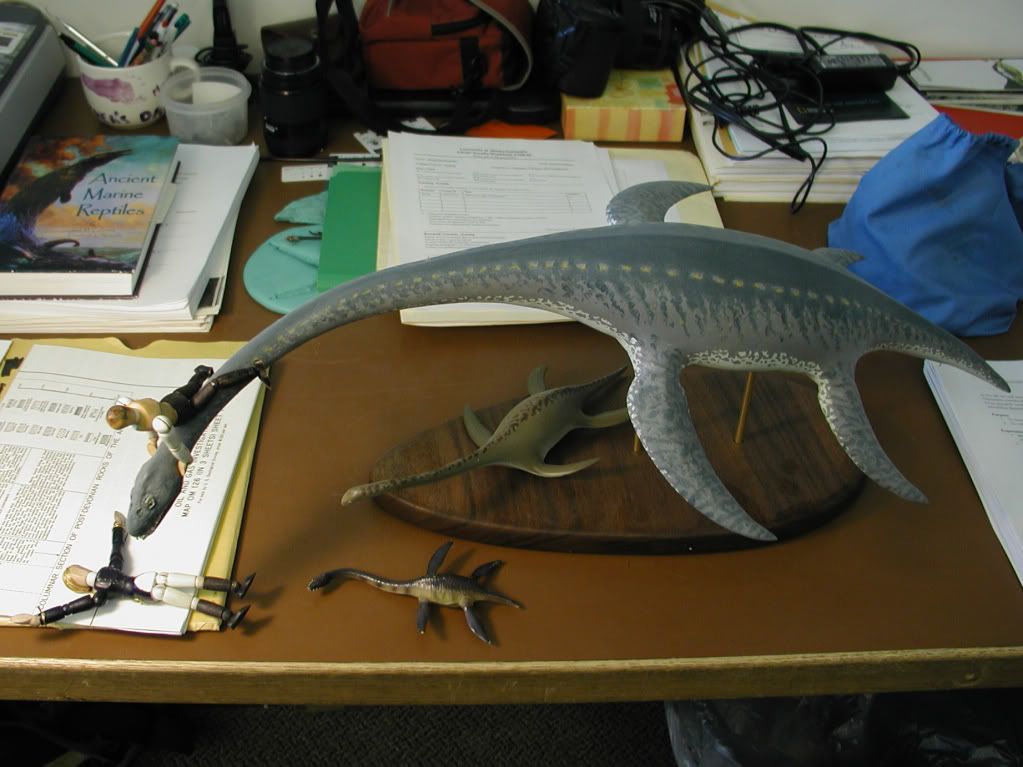 J: I suppose it really is like a great horse. A horse with fearsome teeth and skin like a snake's and a body like a brig.
S: Perhaps we could ride them to England! They are sea-dwelling reptiles, and it would--
J: No.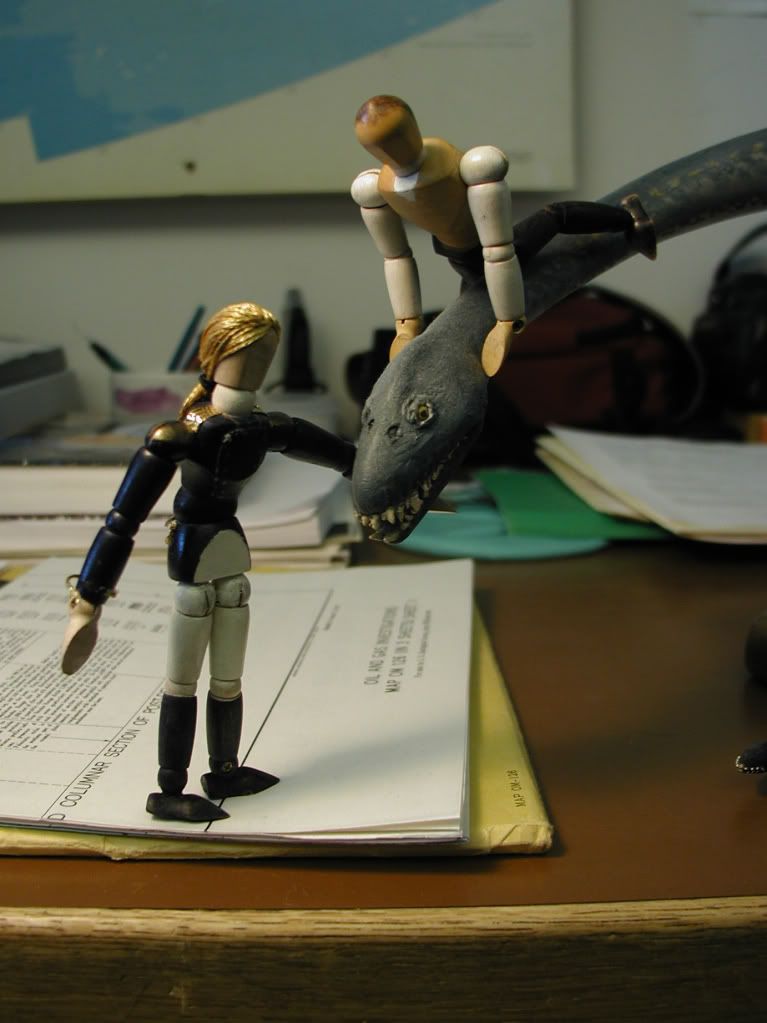 Stephen, try hailing that Eskimo with the sled! Ask him if we can ride!
Hello, hello there, good sir!
Jack, these good people have explained that they have a ship that we may borrow!
I am
very
glad to make your acquaintance, sir, er... ma'am!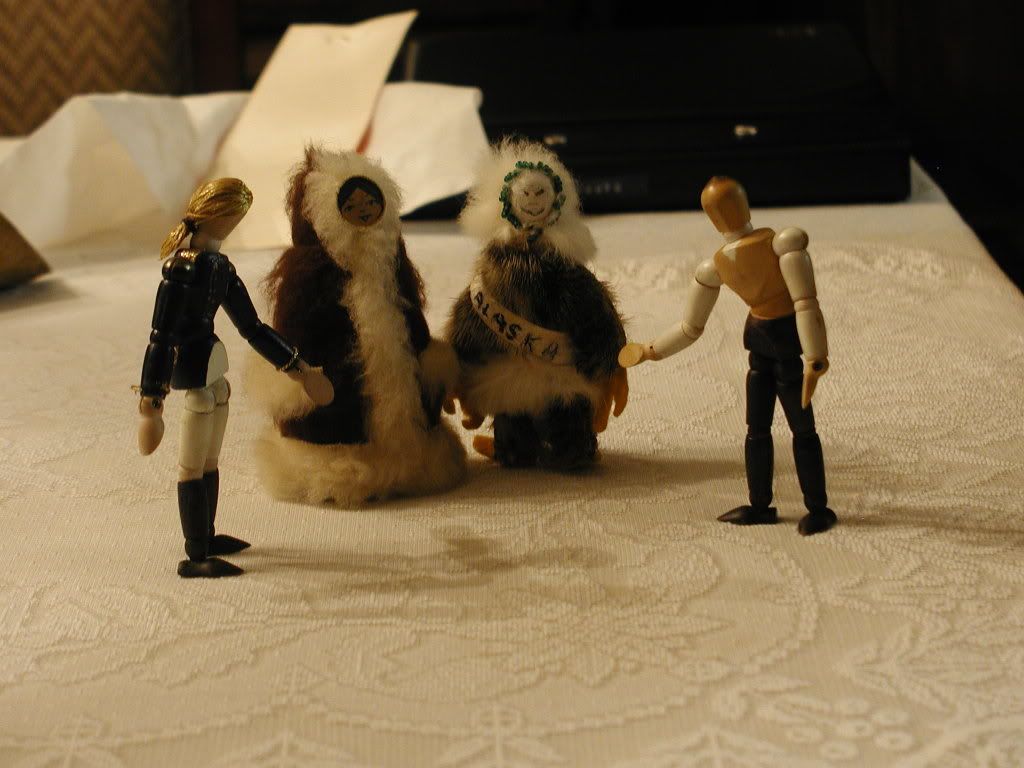 J: I hate to seem ungrateful, Stephen...
S: Is there a problem with the ship?
J: Well it isn't quite the thing, you see. For one thing, it ain't a ship. And another thing, It's a bit too... small. I'm not sure we could make it all the way down the Pacific and around the Horn and back up the Atlantic to England in your boat.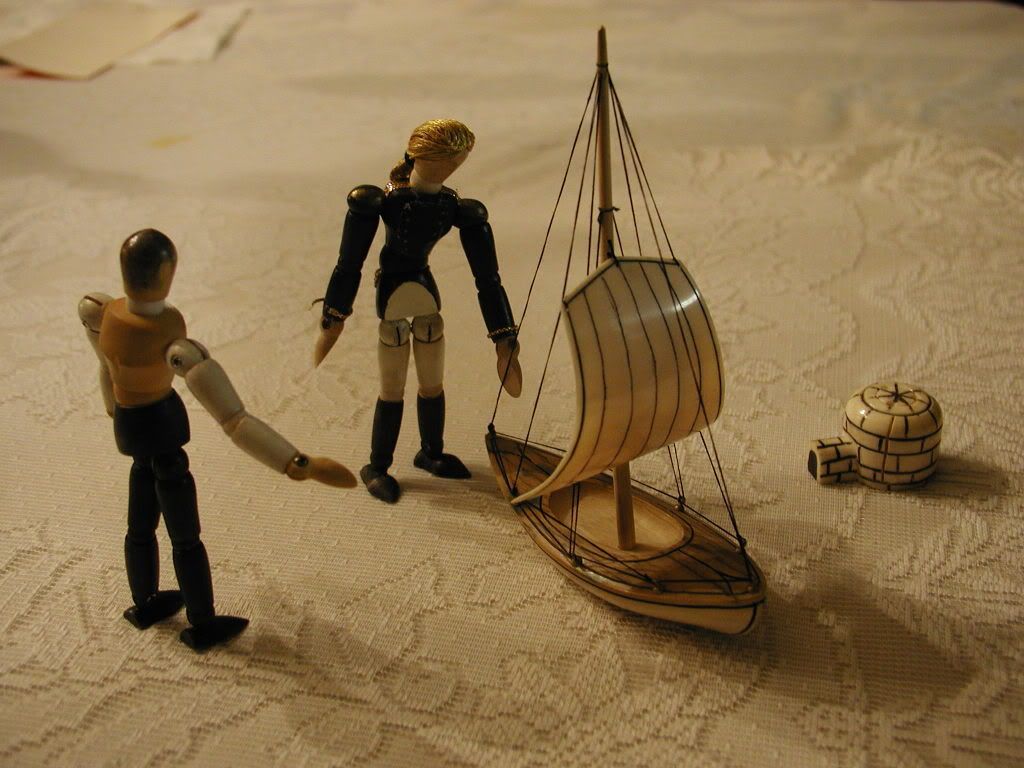 J: Perhaps we could start out in one of those kayaks... Hello, good sir! Hello!
S: The white polar bear, at last! There honey, there is nothing to fear. Have you lost your mama?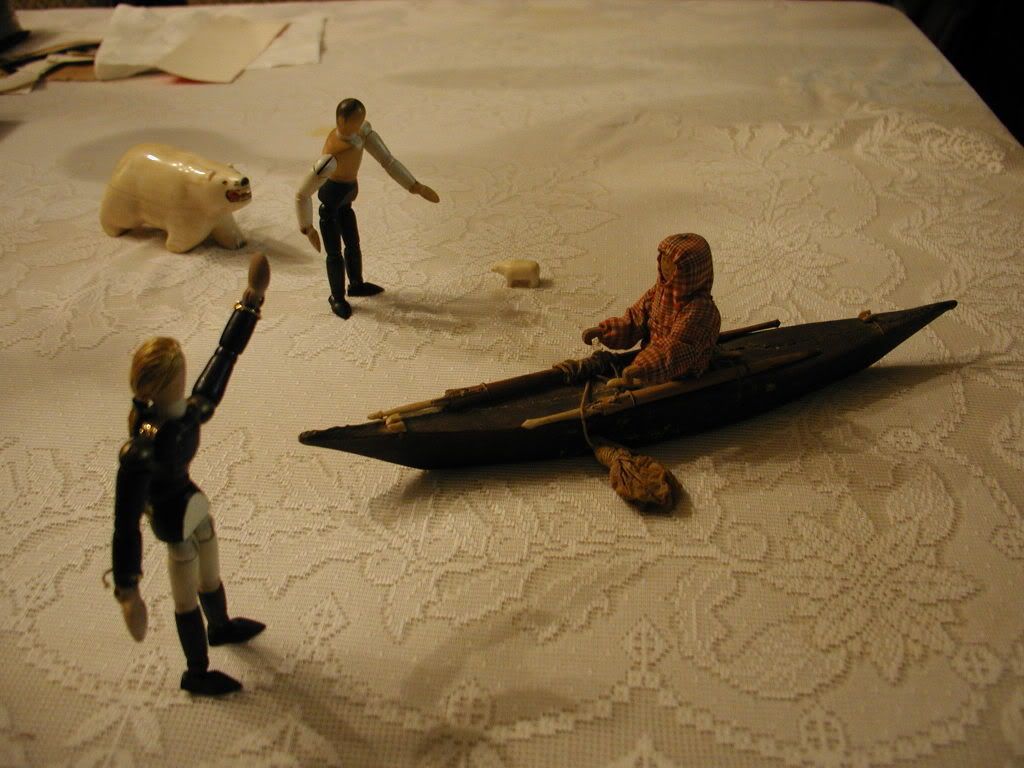 J: Thank you for stopping, sir. Can you tell us where we might purchase a couple of boats like yours?
S: Come, my sweet. Would you like a piece of biscuit?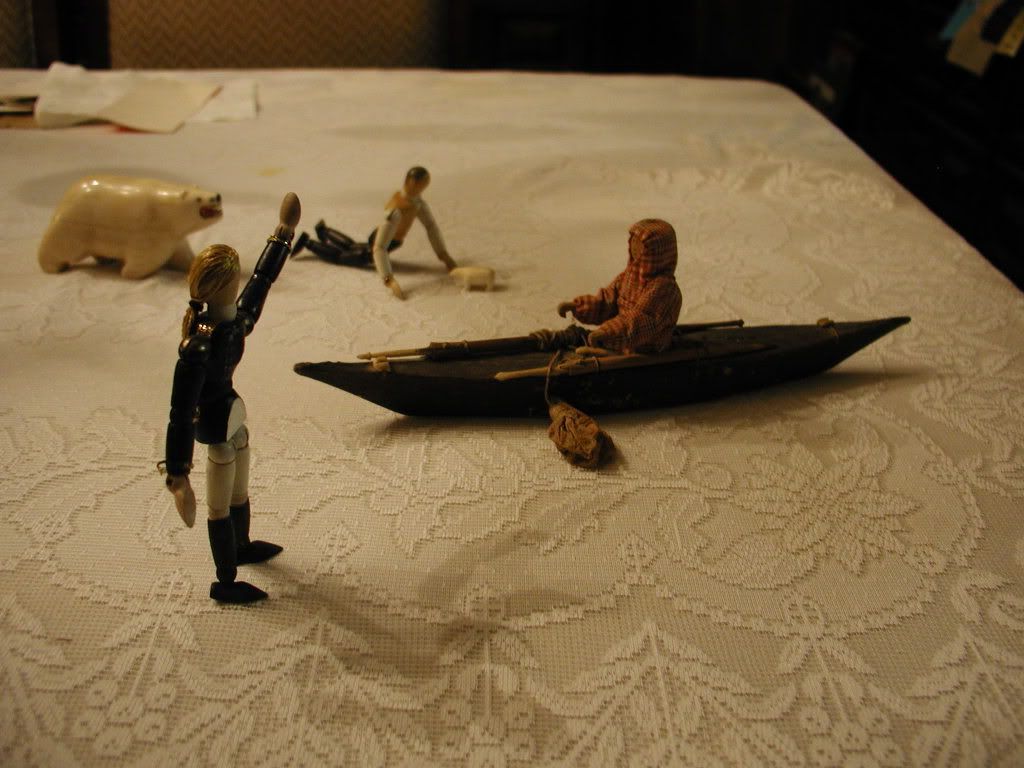 Yes, it is a little small, but it seems seaworthy. And all made of skin! Quite remarkable.
Jack: Stephen, do you think you can row in one of these boats all the way to England?
Stephen: I do not.
Stephen: I think we should ride. This unusual dog has room for both of us, and many more passengers beside.
Stephen, this is a dangerous place. We should leave quickly and quietly, at once, not a moment to lose...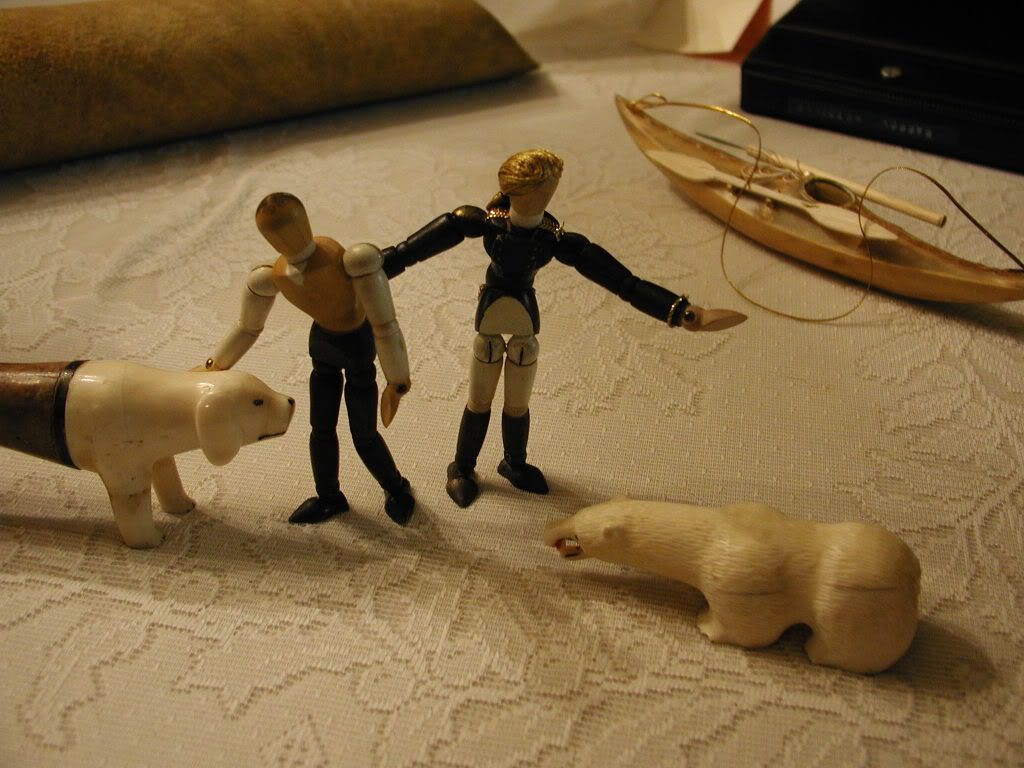 Stephen, what are you doing??? Aaaagh!!!!!
Jack, you are far too shy of the polar bear. Do you not know that it is a maritime creature, such as ourselves? Its name indeed is
Ursus maritimus
.
And such a discerning creature... Why yes, I believe he will let me climb upon his ear.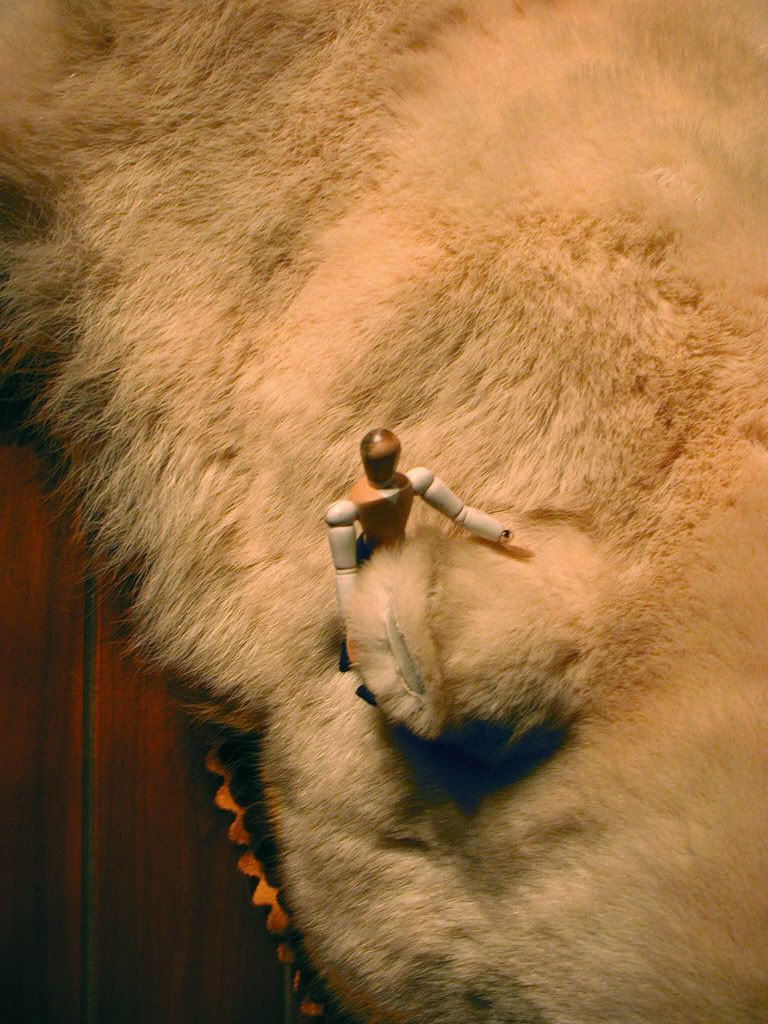 S: The creature is a great swimmer. Should you not like to ride upon its head all the way to England, and discover the route of the Northwest Passage?
J: No!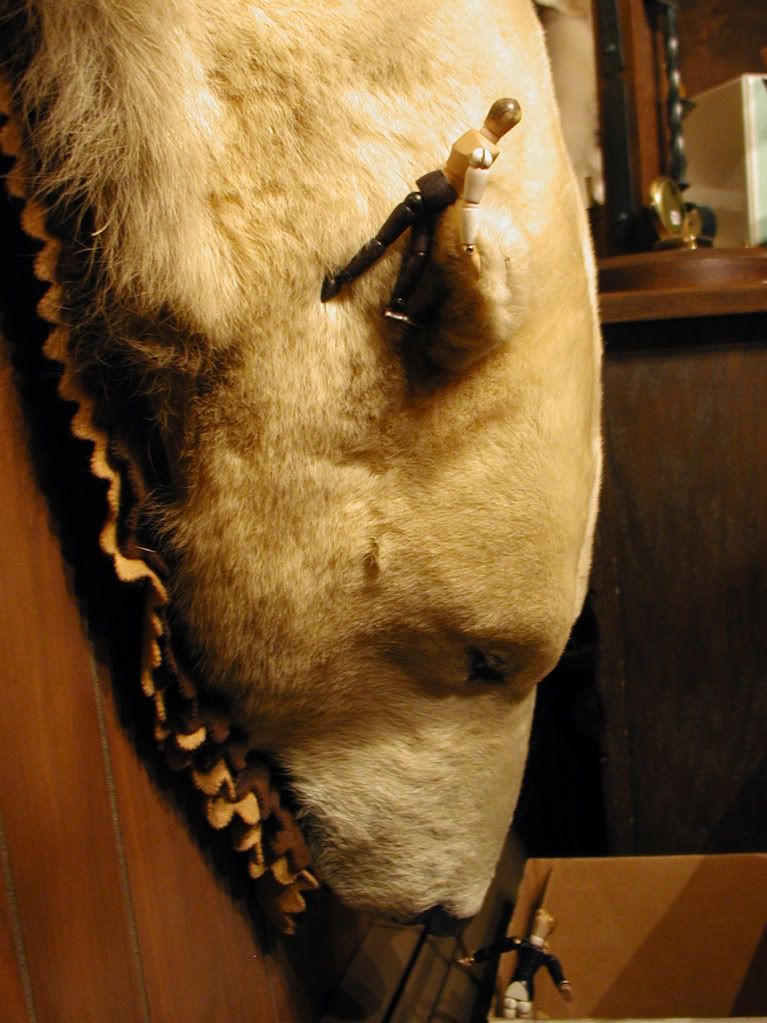 J: No, here at last is a ship! She's the
Whalebone
out of Barrow, and she sails tomorrow. We shall be home in two weeks.
S: She sails directly for England?
J: Well, no, not directly. We'll have to stop in California to take on provisions and return the things that we borrowed. Do you remember Lady Rose that we met there?
S: I do not.
J: Of course you do, Stephen. Lady Rose! Delightful lady, made us dinner and gave me a bath. And her husband Captain Bob. But yes, we're homeward bound at last!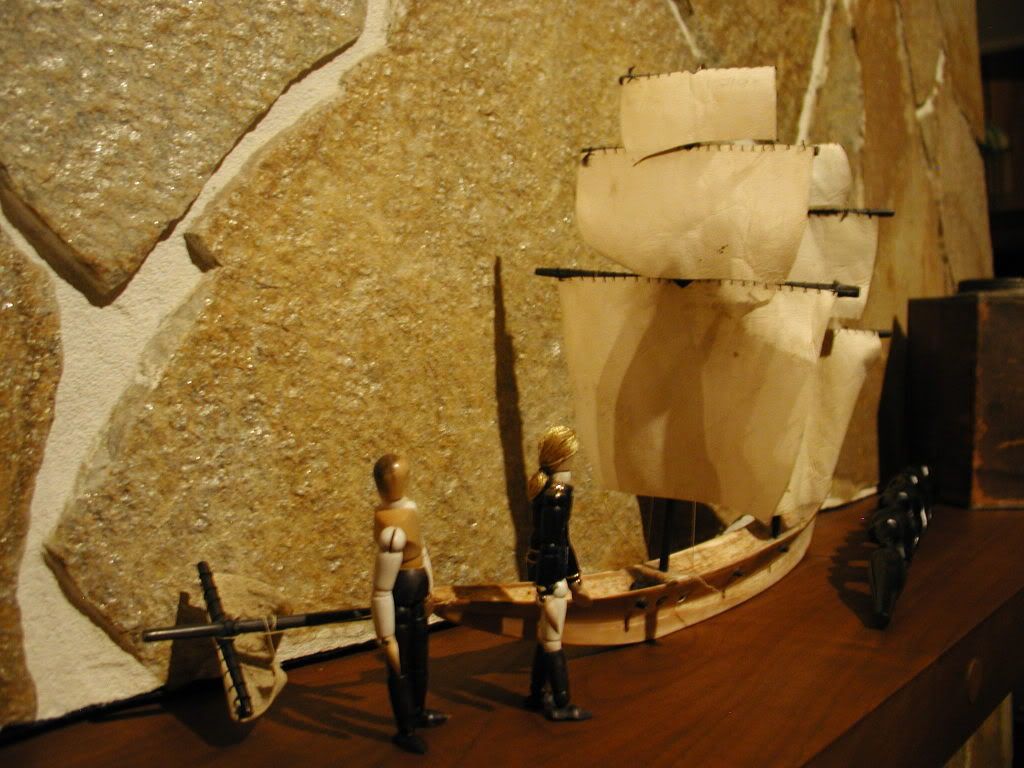 Next: Lady Rose and Home At Last.
------------
Notes: The strange dog is made of an
oosik
. I never even knew such things existed in nature, though I don't know how that knowledge passed me by. I should have studied comparative anatomy!
The plesiasaurs belong to the head paleontologist at UAF (Univ. Alaska at Fairbanks) where I was working at the museum, and he was just down the hall from me. I treated some of his printed plates of dinosaur bones. I told him I was taking pictures of my little wooden dolls to show my nieces (who really
loved
the pictures when I showed them upon my return to California, by the way.) But after we got to talking and he asked me if they had names, I had to confess that they were supposed to represent the characters in the
Master and Commander
movie and books. To which he replied, "So they're Aubrey and Maturin?" Hee! He said that those are probably his favorite fiction books of all, and he felt very honored to have Stephen Maturin visit his office and climb on his dinosaurs. I also showed him flickr pictures of my miniatures, which he liked. Hooray!